Wide Temp Display Modules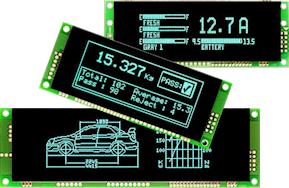 Itron UK's original electronic visual display expertise can be found within this wide temperature , industrial range of products featuring Vacuum Fluorescent Display technology or VFD's . IUK's Wide Temperatue Display Modules based industrial displays have been at the forefront of European industry for the last 40 years and they still find new opportunities in applications that cannot be solved any other way as reliably and cost effectively.
Wide -40 to +85 Degrees Operating Temperature.
High Bright visibility and wide viewing angle in all directions.
Character and Graphic Format options.
Design Longevity, supported for over 20 years in some cases.
Modmaster Development Software available.
Customisable displays and modules.

5x7 Character LCD Emulation

Selectable 4/8 bit M68/i80 Interfaces
Brightness Control Command
ASIC Controller with only 2us busy time.
Single 5V DC Supply
ASCII + Extended + User Fonts
CMOS Sync serial I/F available

These popular 5x7 Dot Character LCD emulation modules have the additional feature that pin 3 can be linked to Busy or Hardware Reset. 4 level brightness control is available.
The high speed ASIC used to control these modules has a busy time of just 2us enabling dynamic visual effects using the extended character set and 8 user defined characters.

LCD Emulation + Graphics

Graphics Upgrade for 5x7 LCD or VFD
SPI/Async Serial as Slave or Host
Graphic Upload and Draw Commands
Unique Pass-Through Serial Port Host
Selectable 4/8 bit M68/i80 Interfaces
Place Cursor on any Pixel.
5x5, 5x7, 7x7, 7x15, 10x14 ASCII Fonts

New Double density versions allow you to increase the number of rows in the same size modules. For example: 2x16 > 3x16 > 4x16. A 7x7 font is used to provide enhanced readability The 7806A have ASCII + European fonts and the 7806AC versions have ASCII + Cyrillic fonts

Bold Font Character Module

These character modules are easy to control with ASCII commands and characters using parallel or serial interfacing. The Y series modules feature character brightness control allowing highlighting and grayscale characters and symbols. The T series bold font modules have large pixels to provide a distinct image for easy reading at distance.

Compact Dot Graphic

Compact Dot Graphic Modules have a pixel size of 0.3 to 0.5mm which means they are ideal for visibility at typically 1m. There 4 software series providing commands to suit the display attributes.

Medium Dot Graphics Modules

Medium Dot Graphic modules have a pixel size of 0.5 to 0.7mm which means they are visible at a distance of 2-3m. There 4 software series providing commands to suit the attributes of the display.

Large Size Modules for Gaming, Message Signs and POS Applications

Noritake Itron has developed these large modules for gaming, message sign and POS applications. Many modules can store pre-define text and graphics in on board EPROM. Multi-drop addressing allows several modules to be connected to the same system bus. 16 and 32 dot high modules include variable sized fonts. The K61x series offer RS485 and clock serial options. Select modules are sold in enclosures with supporting software and accessories.